Bristol, Rhode Island – September 22nd, 2020 – The BREAKER II was recently delivered to the New York Power Authority (NYPA) in Buffalo, New York. Bristol Harbor Group, Inc. (BHGI) was selected by NYPA through a competitive bidding process to design and oversee construction of two (2) new tug vessels. The first tug, the JONCAIRE II, has already been built, delivered, and is currently in service. BHGI developed and revised the BREAKER II specifications and bid drawing package in close collaboration with the operators, including significant detailed system design to provide improved ergonomics for the crew. The BREAKER II was built at Blount Boats in Warren, RI where BHGI provided construction oversight services on behalf of NYPA and visited the yard on a weekly basis, as it is only ten minutes away from the BHGI office.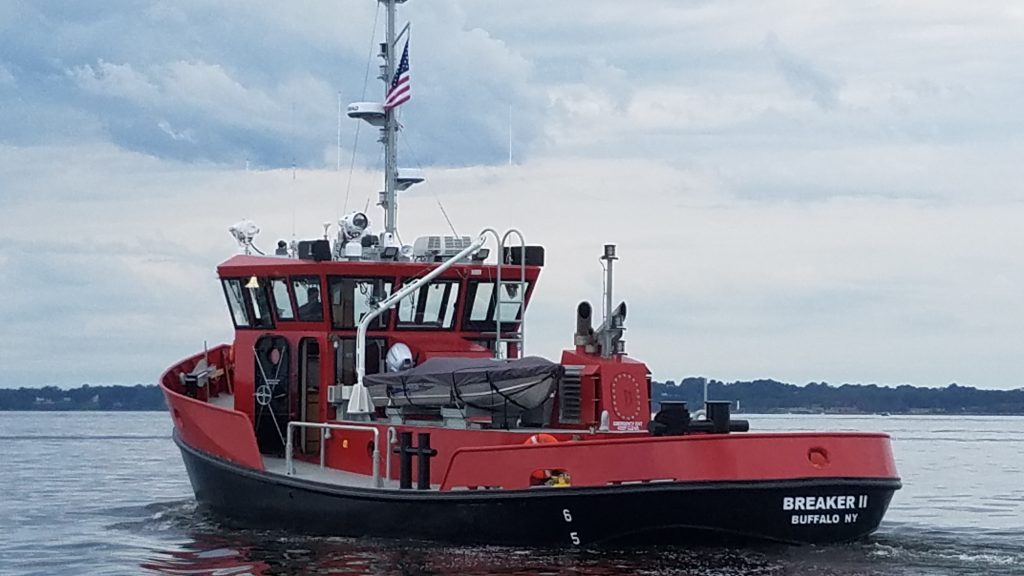 The BREAKER II is an ice-strengthened, twin-screw towing vessel, inspected and certificated to the standards of U.S. Coast Guard Subchapter M. Its primary purpose is to install, retrieve, and maintain the Lake Erie – Niagara River Ice Boom, deployed in the winter at the mouth of the Niagara River. The Ice Boom is intended to minimize the amount of ice entering the upper Niagara in order to decrease ice blockages downstream that could damage shore structures, flood low lying areas, or obstruct flow into the intakes of NYPA's U.S. or Ontario Power's Canadian hydroelectric plant intakes. The BREAKER II is also designed to act as a capable substitute for NYPA's primary icebreaker in the basin just above Niagara Falls, with heavy scantlings and reinforcement for ice breaking, 360-degree visibility from the pilothouse, shallow operating draft to permit breaking ice within the shallow basin at the intakes, and with sufficient power and maneuverability to efficiently operate in the swift currents encountered in the Upper Niagara.
"It has been a pleasure working with NYPA on the BREAKER II and we look forward to seeing her ply the Great Lakes for decades to come."
– Greg Beers, P.E., President of BHGI
About BHGI
BHGI is a full-service naval architecture, marine engineering and consulting firm located in Bristol, RI. BHGI has been in business for more than twenty-five years and has produced numerous designs, to which hundreds of vessels have been built. BHGI specializes in commercial vessel design and consulting and has experience with tugs, barges, Articulated Tug/Barge Units (ATB), passenger vessels, workboats, dredges and floating dry docks. To learn more, you can visit our website: https://bristolharborgroup.com.
About NYPA
NYPA is the largest state public power organization in the nation, operating 16 generating facilities and more than 1,400 circuit-miles of transmission lines. More than 80 percent of the electricity NYPA produces is clean renewable hydropower. NYPA uses no tax money or state credit. It finances its operations through the sale of bonds and revenues earned in large part through sales of electricity. For more information visit www.nypa.gov and follow us on Twitter @NYPAenergy, Facebook, Instagram, Tumblr and LinkedIn.